Professor Klaus Pantel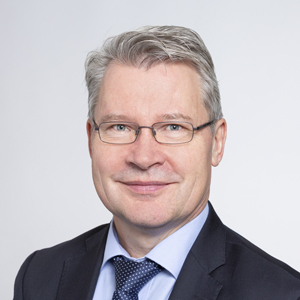 Professor Klaus Pantel is Chairman of the Department of Tumor Biology at the University Medical Centre Hamburg-Eppendorf, which is part of the Centre of Experimental Medicine and the University Cancer Centre Hamburg (UCCH).
The department's research is based on the aim to detect cancer cells and its components as DNA and microRNA using high sensitive procedures and to decode its properties using molecular biological methods. This research, known as 'liquid biopsy', is important for the evaluation of the prognosis of patients with carcinoma type cancers, including bowel cancer. It indicates to special targeted therapies and enables early assessment of the success or fail of therapy. The research of the department also investigates the process of the dissemination of tumor cells and the metastases as the main reason for malignancy of cancer. Altogether, these research activities will contribute to the development of innovative cancer therapies in the future.
Professor Pantel's pioneering work in the field of cancer micro metastasis, circulating tumour cells and circulating nucleic acids (ctDNA, microRNAs) is reflected by more than 400 publications in excellent high ranking biomedical and scientific journals. He has been awarded the AACR Outstanding Investigator Award 2010, German Cancer Award 2010, and ERC Advanced Investigator Grant 2011. He also coordinates the European TRANSCAN group CTC-SCAN, the European IMI consortium CANCER-ID on blood-based 'Liquid Biopsies' and serves on the editorial boards of international cancer journals including Clinical Cancer Research, Breast Cancer Research and Cancer Research.
Learn more about Professor Pantel's research in his keynote lecture at WCP2023, Liquid Biopsy: Establishing a new diagnostic concept in oncology.
You may also be interested in:
Register your interest for future meetings:
Sessions related to bowel cancer