Booking reservations now closed.
Glasgow Convention Bureau is the official accommodation provider for the 19th World Congress of Basic and Clinical Pharmacology (WCP2023) and has negotiated specially discounted rates with a wide range of hotels.
When your room is reserved you will receive an immediate confirmation by email. Breakfast is included unless otherwise stated.
Flexible bookings
With Glasgow Convention Bureau, you can book now and pay at the hotel. They also offer free cancellations of individual bookings up to 48 hours before your check-in date.
Want to stay for longer?
Accommodation allocations are being held by Glasgow Convention Bureau from 1 July to 7 July, with departure on 8 July 2023 for attendees of the Congress. If accommodation is required outside of these dates, attendees should book as many nights as possible on the online accommodation portal and then contact Glasgow Convention Bureau (details below) with your booking reference number. They will arrange to add on more nights if available.
Can't find the right accommodation for you?
If you require other types of accommodation please contact Glasgow Convention Bureau (details below). They can recommend cheaper alternatives, including hostels, B&B's etc. Delegates will need to book directly with their chosen establishment.
Group bookings
If you wish to purchase a group booking of 10 rooms or more, please contact the Glasgow Convention Bureau (details below).
Any other questions?
If you have any accommodation-related questions, please contact  accommodation@glasgowconventionbureau.com or call on +44 (0)141 566 0821 / +44 (0)141 566 0820.**Please note, standard bookings cannot be completed via telephone.**
On-site accommodation
WCP2023 will be held in the at the Scottish Events Campus (SEC), located just outside Glasgow city centre in the west-end. The majority of the Congress activity will take place in the SEC Centre and SEC Armadillo, with some events in the social programme taking place in various venues across Glasgow. If you would like to stay close to the Congress, we recommend staying at one of the many fantastic hotels that are just a short walk away from the SEC Centre and SEC Armadillo.
Please note: hotels marked as 'green hotels' have an accreditation or sustainability policy in place.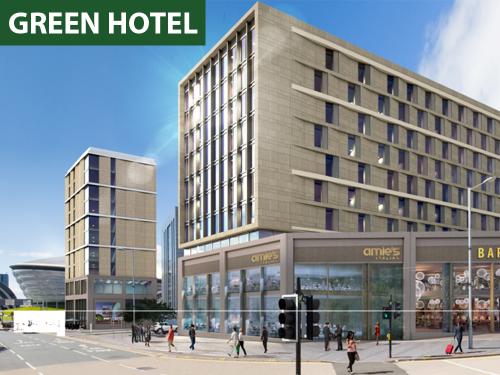 Moxy Glasgow SEC
130 Finnieston Street, Glasgow G3 8HB, UNITED KINGDOM  |  0.29 Mile(s) from Scottish Event Campus
Moxy Glasgow SEC is bringing a fresh vibe to the SEC Campus with immersive social spaces, cosy and smart rooms with tech galore, and a welcome drink waiting for you with your room key when you check in. Furiously fast wi-fi, cushy beds, and 42″ smart TVs are available to power you up before you head out to the buzzing area of Finnieston for the night, our breakfast and a strong cup of coffee can take care of the mornings.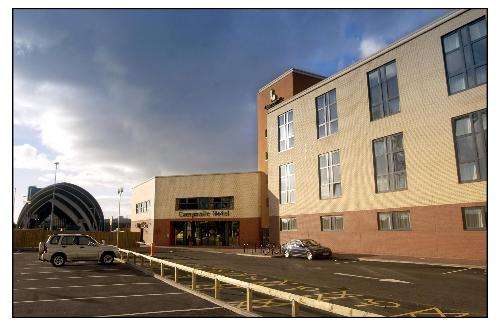 Campanile Hotel Glasgow SEC
10 Tunnel Street, Glasgow G3 8HL, United Kingdom  |  0.37 Mile(s) from Scottish Event Campus
Campanile Glasgow SEC has all the facilities you would expect from a modern hotel chain, we offer air conditioned bedrooms with a contemporary decor at very competitive rates. All bedrooms are en-suite with power shower, hairdryer, tea and coffee facilities as well as FREE WIFI in all the rooms and public area.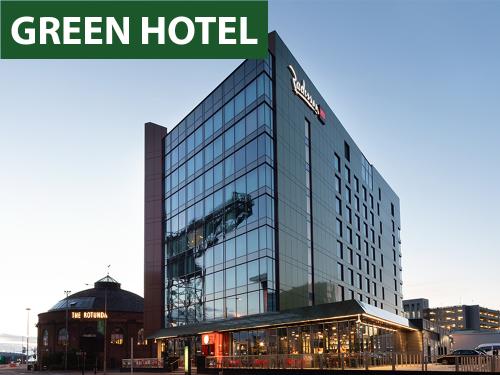 Radisson Red Glasgow
Finnieston Quay / 25 Tunnel Street, Glasgow G3 8HL, UNITED KINGDOM  |  0.39 Mile(s) from Scottish Event Campus
Newly opened in April 2018 at the SEC, Radisson RED Glasgow is the first RED in the UK. Inspired by music, fashion and art; Radisson RED is tapped into the modern, high tech global traveller. Bold. Flexible. Social. Expressive.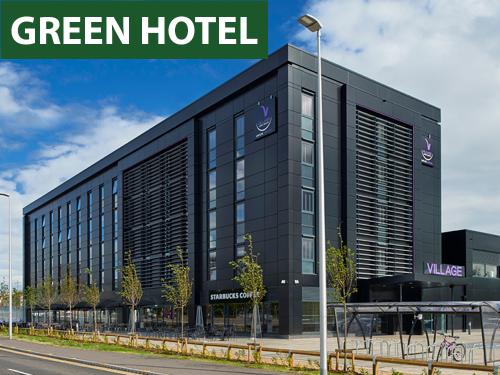 Village Hotel Glasgow
Pacific Drive / Pacific Quay, Glasgow G51 1DA, UNITED KINGDOM  |  0.39 Mile(s) from Scottish Event Campus
Offering state of the art Leisure facilities, including an indoor pool, fitness centre and luxurious Spa, the Village Hotel Glasgow is located in Glasgow's Pacific Quay area. This chic property features a bar and grill restaurant. Each stylish room has a modern en suite bathroom, air conditioning, free WiFi, a flat-screen TV with satellite and some Sky channels.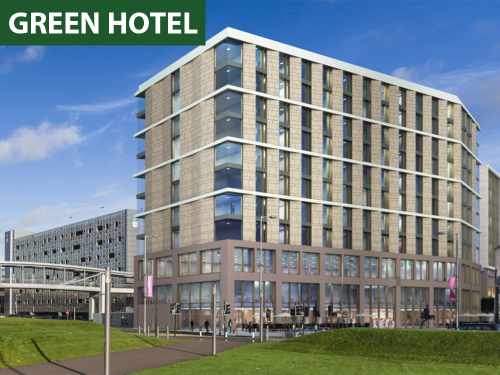 Courtyard Glasgow SEC
Finnieston Street, Glasgow G3 8HB, UNITED KINGDOM  |  0.4 Mile(s) from Scottish Event Campus
Set in the Glasgow SEC Campus, the Courtyard by Marriott blends comfort and convenience, making it the perfect place to stay in Glasgow. Only a few steps from the Exhibition Centre, the OVO Hydro and the Armadillo, and a short walk to the buzzing Finnieston area, the hotel has all the perks and none of the fuss that you want when you travel, offering elevated comfort for work and leisure.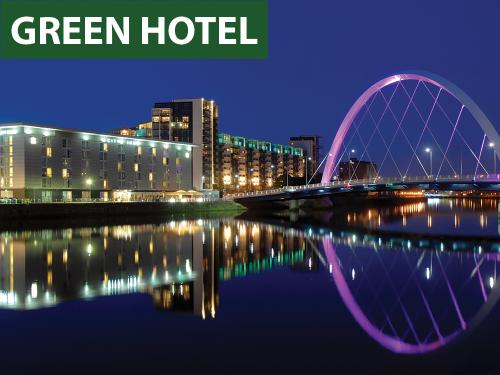 Hilton Garden Inn City Centre
Finnieston Quay, Glasgow G3 8HN, UNITED KINGDOM  |  0.43 Mile(s) from Scottish Event Campus
Hilton Garden Inn City Centre, is located a short walk from the SEC. The hotel is a perfect, peaceful, bespoke retreat for business and leisure travellers alike. Hilton Garden Inn's accommodation comprises of spacious rooms, many with river views over the Clyde and each have a 42 inch screen television and complimentary wifi.
Book now to avoid disappointment and secure your discounted rate!

---
Delegates can pre-pay for accommodation in advance should you wish. You must make a request by emailing Glasgow Convention Bureau (GCB) at accommodation@glasgowconventionbureau.com and they will put you in touch with your chosen hotel.  Please do not contact the hotels directly as GCB will not have passed over the room list until nearer the time of the Congress and this could cause double bookings.
You may also be interested in:
---