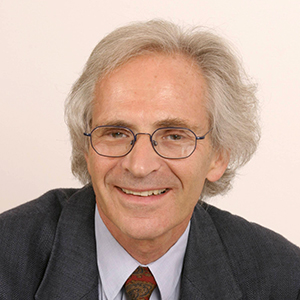 Keynote Lecture with Professor Sir Marc Feldmann – Translating molecular insights in auto-immunity into effective therapy
Speaker
Professor Sir Marc Feldmann

Emeritus Professor at the Kennedy Institute of Rheumatology, University of Oxford

Country: UK

Professor Sir Marc Feldmann FRS is Emeritus Professor at the Kennedy Institute of Rheumatology, University of Oxford.

He studied Medicine at the University of Melbourne, followed by a PhD in immunology . His work in London led to the generation of a new hypothesis for mechanisms of autoimmunity linking upregulated antigen presentation and cytokine expression. Testing this hypothesis led to the discovery with colleague Ravinder Maini of the pivotal role of TNFa in the pathogenesis of rheumatoid arthritis, established by studying synovial cultures, animal models and clinical trials. This major discovery revolutionized therapy not only of rheumatoid arthritis but other chronic inflammatory diseases, including IBD. This has led to Professor Feldmann's election to the Royal Society, the National Academy of Sciences USA and the Australian Academy of Science, and his receiving of major prizes including the Crafoord Prize of the Royal Swedish Academy of Sciences, Albert Lasker Clinical Research Award and Gairdner Award.

Professor Feldman was awarded the 2020 Tang Prize in Biopharmaceutical Science alongside Professor Charles Dinarello (University of Colorado), and Professor Tadamitsu Kishimoto (Osaka University, Japan) in recognition of their "development of biologics targeting three of a large family of proteins in our immune system called cytokines."

The Tang Prize Foundation noted that "the pioneering work of Drs. Feldmann, Dinarello, and Kishimoto is transformative. Their research led to the development of biopharmaceuticals that have benefited millions of people suffering from autoimmune and inflammatory diseases."

Professor Feldmann's anti-TNF was the first antibody therapy of a common disease, is the world's best-selling drug class, and facilitated the widespread uptake of antibody therapy by the pharmaceutical industry.

Dr Feldmann's current priority is to see whether anti-TNF will be an effective treatment for the hyperinflammation in COVID-19.