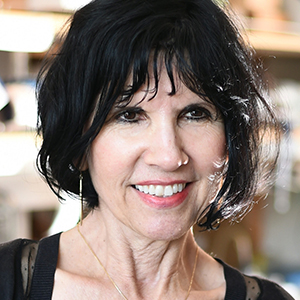 Keynote Lecture with Professor Kathy Giacomini – Transporters in drug development: From targets through regulation
Speaker
Professor Kathy Giacomini

Professor in the School of Pharmacy at the University of California; Professor, UCSF, San Francisco, The United States of America

Country: USA

Professor Kathleen (Kathy) Giacomini PhD, a professor in the School of Pharmacy at the University of California, San Francisco, is a leader in the field of membrane transporters with a focus on genetic polymorphisms. She cloned, characterized and discovered endogenous roles of the human xenobiotic transporter, OCT1 (SLC22A1), recently de-orphaned SLC22A24, an anion exchanger that preferentially transports steroid conjugates, and performed genomewide association studies for response to the anti-diabetic drug, metformin and the hypouricemic agent, allopurinol. Together with others, she co-founded the International Transporter Consortium, which has published highly impactful papers informing regulatory policy. She is the Co-Principal Investigator of the UCSF-Stanford Center of Excellence in Regulatory Sciences and Innovation and President of the Pharmacogenomics Research Network. She has received numerous awards and is an elected member of the National Academy of Medicine.